Download / On-Demand Information
All instructionals are available for instant on-demand streaming or for download through the Vimeo App.
The clips can comfortably be watched through your Smart TV, Mac, PC or smartphone and tablet.
To access your on demand clips you will need a Vimeo account, which is free and easy to set up (email/password or log in through Google,…).
I also recommend the use of the Vimeo App which is pre-installed on many Smart TVs, Apple TV,… and is free for download on smartphones and tablets.
You can purchase your Sofa Ski School instructionals through the shop on SOFASKI.COM or on vimeo.com.
After your purchase on SOFASKI.COM you will receive a code within 24 hours to unlock your Sofa Ski School video.
You will only need the to use the link to unlock the video once!
The video will be connected to your vimeo account and can be viewed on ANY device on which you log in to Vimeo.
Once unlocked the videos cannot be moved to a different account. 
You can find your purchased videos on vimeo using this link www.vimeo.com/purchases or directly in the "my instructionals" section in your Account on SOFASKI.COM. 
In the App you can find your purchased videos by selecting the bookmark symbol at the bottom of the screen and then "purchases" at the top: 

To download a video to your device so you can watch it offline you will need to use the Vimeo App.
Make sure that you are logged in with your Vimeo Account,
go to the video and select "Add to offline playlist".
The video will then be downloaded and will show in the "Offline" folder.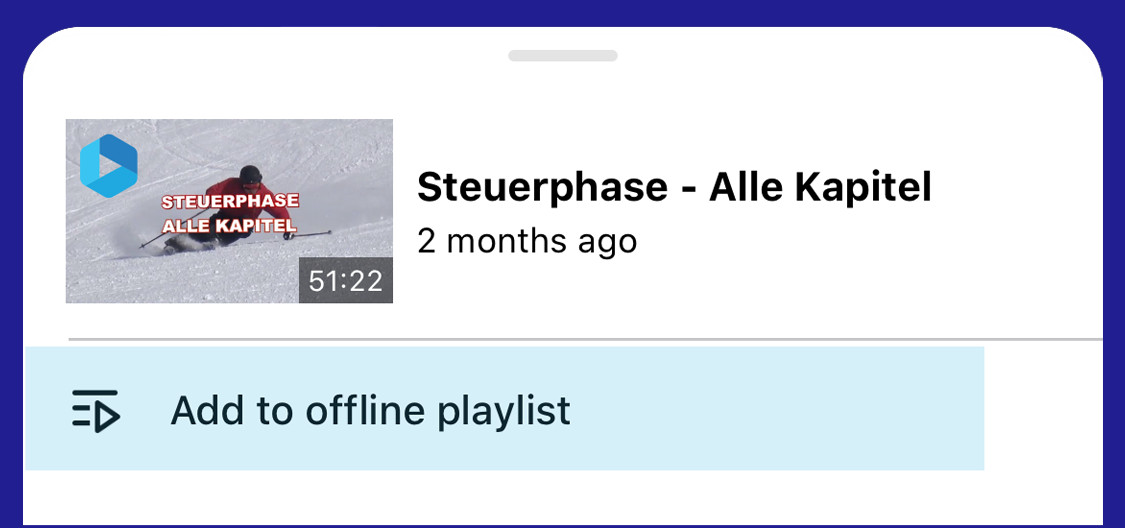 Also see this video if you should have trouble finding the things shown in the screenshots above: https://vimeo.com/347145609
All On-Demand products include all future updates of the instructional as well as access to the Member Area on SOFASKI.COM from where you can also download the reminder cards to view them on your device.

Please also see the FAQ's below or email me if you have further questions.
How do I get access to the Member Area for customers?
After your purchase you will be sent your log in information for the member area, where you can find additional videos and ski articles. If you purchase on Vimeo.com then please forward me your order confirmation and I will unlock your email address for the member area. 
Can I watch the On-Demand / Download content on multiple devices?
As long as you are logged in with your Vimeo account you can access the videos that you have purchased. You can only be logged in on one device at a time.
Can I download the clips to my PC / Mac?
You won't be able to download the .mp4 videos on your PC for copyright reasons but you can view all clips offline through the Vimeo App.
Please get in touch if you have any further questions!